It is the day of Ladies celebrating Ladies…This is how Parks and Rec character Leslie Knope described the mythical holiday turned excuse for a girls' night, GALENTINE'S DAY!!!!  We love, love, love this day!  Who doesn't like an excuse for drinks, eats, and maybe a little embarrassing party fun with your favorite friends?   I have put together some fabulously fun and festive ideas for how you can make your girl gathering unforgettable!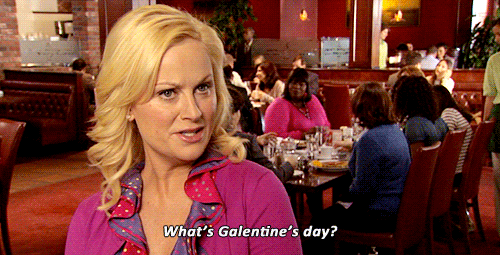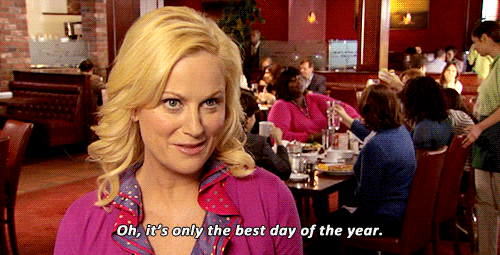 (via Giphy) 
Theme It….and the theme can be glitter! 
(via Pinterest) 
Galentine's Day can be your excuse to throw every pink, red and glittery item you can find on the table.  Go wild with all things girly and this is the time to go over the top!  Side note: This can be a budget friendly type of table…all of these pieces or similar items can be found in the $3 section at Target, Dollar General or of course at your local Walmart.
 (via Pinterest)
A special Galentine's Day cocktail…there should always be cocktails.
 (via Pinterest)
These pretty in pink cocktails not only give you a buzz but they can be part of the party décor!  What I think makes these a crowd pleaser is the fruit, flowers, and sugary confections that are added to give it the pizzaz your pals deserve.  Pick your favorite libation and have fun with it.
DIY Photo Booth
 (via Pinterest)
This is one of the easiest ways to entertain your girl gang.  Throw your most favorite Galentine's Day décor up and take all those fun pics to share!
Eats
 (via Pinterest)
Oh I forgot to mention that Galentine's Day is your excuse to indulge!  Yaaas ladies, you heard it here…this is yet another excuse to forget about your diet and have all the carbs and sugar you want!  Decorate your favorite cake or provide your gals with some chocolate dipped Rose strawberries!
Humor is a must!
 (via Pinterest)
Throw a little humor in the mix!  This is a night of hilarious photo ops with your tribe!  So have a blast with it and make it a part of the party convo!
Know what matters:
 (via Pinterest)
Although all these impressive suggestions will next level your gathering, remember what the girl's night/ Galentine's Day is all about!  It is about celebrating your besties and loving the ladies you lean on.
(via Pinterest)
Audio version of this blog post: